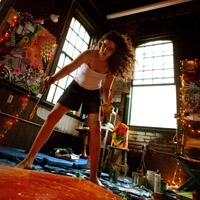 Alyssa is a 26-year-old artist residing in Harlem, NY. She doesn't get to paint everyday anymore, but when she does, she doesn't wash the paint off her body for an extended period of time because it makes her feel like herself.
Alyssa studied painting at SUNY Geneseo, in Western New York, whose winters are so cold and gray that painting with as many colors as possible became as essential to survival as a warm winter coat. Now, living and painting in New York City, color remains at the heart of her work, a reflection of that kaleidoscopic vision that comes from staring too long with softly-focused eyes out of 7 Train windows.
Alyssa spent several years as a freelance designer and aerial photographer, and now works as a copywriter.
Photo by
Frank Vitale